App
Descarga la aplicación gratis
Ayuda
Desde España
900 866 918
Reservas de vuelo y hotel: Lunes a viernes de 09:00 a 18:00 (hora de Madrid)
Internacional
+86 21 2226 8811
Reservas de vuelo y hotel: Lunes a viernes de 09:00 a 18:00 (hora de Madrid)
Slovenia: COVID-19 Travel Bans & Travel Restrictions
Updated on 11 jun 2021, 10:11 UTC+8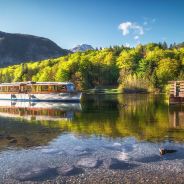 Entry into Slovenia
Partially restricted
COVID-19 Testing
Travelers must carry proof of a negative PCR test result for COVID-19 issued no more than 48 hours prior to departure or undergo quarantine.
Quarantine
Travelers must undergo quarantine or carry proof of a negative PCR test result for COVID-19 issued no more than 48 hours prior to departure.
Detailed Regulations
From March 29, 2021, travelers arriving from countries or regions considered by Slovenian health authorities to have an "unstable epidemiological situation" must undergo a 10-day quarantine upon arrival. This policy provides exemptions for persons who either: 1) carry proof of a negative result for COVID-19 issued no more than 48 hours prior to departure using a polymerase chain reaction (PCR) test performed in an EU Member States or a Schengen-associated country, 2) carry a certificate of a positive PCR test result issued at least 21 days and no more than 6 months prior to arrival, 3) carry a medical certificate stating the traveler has fully recovered from COVID-19 and at least 6 months have passed since the initial onset of symptoms, or 4) carry proof of COVID-19 vaccination demonstrating that at least 7 days have elapsed since the second dose of the Pfizer-BioNTech vaccine, at least 14 days since the second dose of the Moderna vaccine, or 21 days since the first dose of the AstraZeneca vaccine. Additional information is available at the following URL: https://www.gov.si/en/topics/coronavirus-disease-covid-19/border-crossing/

Returning to United States
Entry prohibited
Detailed Regulations
From May 4, 2021, foreign nationals who have visited any of the following countries or regions within 14 days of their arrival in the United States are prohibited from entering: Austria, Belgium, Brazil, Czech Republic, Denmark, Estonia, Finland, France, Germany, Greece, Hungary, Iceland, India, Iran, Ireland, Italy, Latvia, Liechtenstein, Lithuania, Luxembourg, Mainland China, Malta, Monaco, Netherlands, Norway, Poland, Portugal, San Marino, Slovakia, Slovenia, South Africa, Spain, Sweden, Switzerland, Vatican City, and the United Kingdom. This policy provides limited exemptions for persons providing vital support for critical infrastructure, journalists, students, and certain academics covered by exchange visitor programs.
All persons traveling to the United States (including US nationals) must present proof of a negative result for COVID-19 issued no more than 3 days to departure using a nucleic acid or antigen test. Alternatively, persons who, at any point within 90 days of their scheduled departure for the United States, tested positive for COVID-19 may present "documentation of recovery" for travel to the United States. This must include proof of the positive test result along with a certificate from a recognized healthcare provider attesting that the traveler is not currently exhibiting symptoms consistent with COVID-19 is and cleared for travel. All travelers must additionally sign a form attesting that the information provided to airline staff is truthful and accurate to the best of the traveler's knowledge. Persons lacking such proof are prohibited from boarding flights bound for the United States. More information including post-travel recommendations is available via the following URL: https://www.cdc.gov/coronavirus/2019-ncov/travelers/testing-international-air-travelers.html
The United States government has mostly suspended the issuing of new visas and all US land border checkpoints with Canada and Mexico are closed to non-essential traffic. Additional restrictions are in place for persons holding special category visas including H-1B, H-2B, J-1, and L-1 visas. All travelers are encouraged to contact their local US embassy or consulate prior to finalizing travel arrangements. When arriving into or traveling within the United States, all persons must wear masks covering their mouth and nose while aboard any conveyance or at any transportation hub. Be advised, various state and local authorities in the United States have implemented additional policies and restrictions for persons arriving into their jurisdictions.